Zart schmelzender Hochgenuss … Seit mehr als 3000 Jahren gehört Schokolade zu den kostbarsten und köstlichsten Schätzen, die jemals entdeckt wurden. Zunächst ein kulinarisches Privileg nur für vermögende und berühmte Persönlichkeiten, lässt die "Speise der Götter", wie es im Griechischen heißt, heute alle Herzen höherschlagen. Mit Chocomania, der neuen Verwöhnserie von The Body Shop®, wurden sechs neue, verführerische
Meisterwerke der Pflegekunst geschaffen: feinste Zutaten, überraschende Füllungen, sanft schmelzende Texturen und ein sinnlicher, himmlisch schokoladiger Duft machen die Chocomania-Serie zu einer Offenbarung für jeden Schokoladen- und Beauty-Liebhaber.
Heimliche "Königin" der Chocomania-Serie ist die Chocomania Body Butter: Jeder Tiegel enthält eine exklusive Pflegeformel mit 13 fair gehandelten Inhaltsstoffen aus der ganzen Welt, die der Haut 48 Stunden "Feelgood Hydration" schenkt. Und zum Anbeißen schön pflegt … und duftet! Sie können nicht genug davon bekommen? Das verstehen wir. Werden auch Sie zum "Chocoholic" und tauchen Sie ein in die Welt des vollkommenen Schokoladen-Genusses …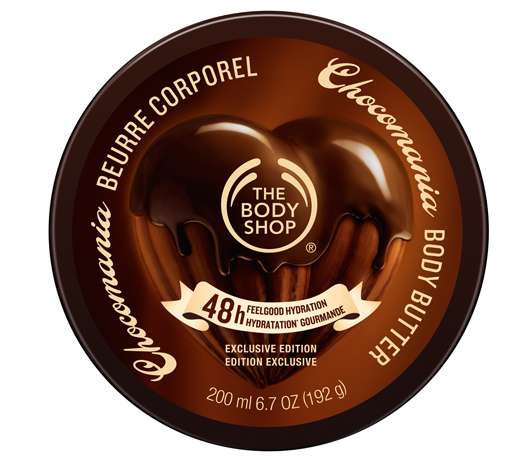 Body Butter
(200 ml, UVP 15 Euro)
Himmlisch schokoladig duftende, intensiv pflegende Körperbutter für streichelzarte Haut. Versorgt die Haut 48 Stunden lang intensiv mit Feuchtigkeit. Enthält die fair gehandelten Inhaltsstoffe Bienenwachs und Honig, Kakaound Sheabutter, Paranuss- und Babassu-Öl, Sesamsamen- und Soja-Öl, Marula-Öl, Aloe, Kokos-Öl, Oliven-Öl und Rohrzucker.
Body Scrub
(200 ml, UVP 14 Euro)
Körperpeeling für eine optimal gepflegte, geschmeidig glatte Haut. Enthält die fair gehandelten Inhaltsstoffe Kakaobutter, Paranuss-Öl, Soja-Öl und Rohrzucker.
Body Lotion
(250 ml, UVP 11 Euro)
Körperlotion für wunderbar weiche Haut. Enthält die fair gehandelten Inhaltsstoffe Sheabutter, Kakaobutter, Sesamsamen-Öl, Paranuss-Öl und Babassu-Öl.
Lip Butter
(10 ml, UVP 5 Euro)
Lippenbalsam für geschmeidig weiche Lippen. Enthält die fair gehandelten Inhaltsstoffe Bienenwachs, Kakao- und Sheabutter.
Shower Cream
(250 ml, UVP 6 Euro)
Feuchtigkeit spendende Duschcreme. Enthält die fair gehandelten Inhaltsstoffe Kakaobutter und Honig.
Soap
(100 g, UVP 3 Euro)
Seifenstück in Herzform für gepflegte Hände. Enthält die fair gehandelten Inhaltsstoffe Kakaobutter und Kokos.
Wussten Sie schon
In der Chocomania Body Butter sind alle Werte, der Pioniergeist, die Leidenschaft und die Expertise des Unternehmens The Body Shop vereint: In jedem Tiegel sind 13 fair gehandelte Inhaltsstoffe aus der ganzen Welt enthalten – das ist mit 45 % der höchste Anteil an fair gehandelten Inhaltsstoffen in einem einzigen The Body Shop® Produkt. Ein seidig-zarter, wunderbar schokoladiger Hochgenuss, der nicht nur der Haut etwas Gutes tut, sondern auch Menschen auf allen Kontinenten dieser Welt. Mit der Chocomania-Körperpflege-Serie läutet The Body Shop ein Jubiläumsjahr ein: Vor 25 Jahren hat das Unternehmen sein Programm "Hilfe durch fairen Handel" eingeführt und damit eine Vorreiterrolle in der Kosmetikbranche übernommen. Dieses Programm umfasst mehr als 30 Handelspartner in über 20 Ländern und garantiert mehr als 25.000 Menschen auf der ganzen Welt faire und verantwortliche Handelsbeziehungen, ein langfristiges Einkommen und Unabhängigkeit.
CHOCOMANIA ist seit Februar 2012 im Handel erhältlich.