Ein Trend, der sich auf den Fashion Shows durchgesetzt hat, ist der
"Gothic-Glamour"
. Ausdrucksstarke Looks erhalten einen verspielt femininen Touch und extravagante Romantik trifft auf dramatisch-starke Farben.
All Eyes On You
NEU
CATRICE Lash & Brow Designer – Shaping And Conditioning Gel
Ein absolutes Muss: perfekte Wimpern und Augenbrauen! Mit dem CATRICE Lash & Brow Designer werden Wimpern und Augenbrauen in Form gebracht und durch das enthaltene Panthenol zusätzlich gepflegt. Das transparente und schnelltrocknende Gel verleiht ein besonders natürliches Finish und überzeugt durch seine lange Haltbarkeit – für ein definiertes Augen-Make-Up. Um 2,99 €*.
NEU
CATRICE Glamour Doll Volume Mascara
Doll Eyes dominieren die internationalen Catwalks und sind diese Saison das absolute Must-Have. Und auch bei der Glamour Doll Volume Mascara ist es nicht anders: Mit dem speziellen Elastomer-Bürstchen lässt sich die cremige Mascara besonders gut auf den Wimpern verteilen. Durch die großen Zwischenräume nimmt das Elastomer-Bürstchen extrem viel der Textur auf und umhüllt jede einzelne Wimper mit Farbe ohne sie dabei zu beschweren. Sie verleiht dadurch nicht nur extra Volumen, sondern auch eine unvergleichlich faszinierende Länge und Dichte. Das Ergebnis: unwiderstehlich große Puppen-Augen, die verführen! Augenärztlich getestet. Um 3,99 €*.
NEU
CATRICE Mini Max Precision Volume Mascara
Beeindruckendes Wimpernvolumen und verführerische Länge, dazu perfekt voneinander getrennte Wimpern: Leichter geht es nicht! Die speziell entwickelte Bürste eignet sich sogar für kurze und feine Wimpern, da sie besonders gut die unteren und die Wimpern im Augeninnenwinkel erreicht Die kleinen Kammreihen der speziellen Bürste erfassen mit Leichtigkeit jede noch so winzige Wimper im Augeninnenwinkeln und umhüllen sie mit der cremig-schwarzen Textur ohne zu klumpen. Um 3,99 €*.
NEU
CATRICE Evolution To Revolution Ultra Black
Ein Bürstchen, zwei verschiedene Abstreifer – Revolution ist angesagt! Und jetzt erhält die beliebte und erfolgreiche CATRICE Evolution To Revolution Mascara auch noch den ultimativen Ultra-Schwarz-Kick für einen noch atemberaubenderen und noch intensiveren Blick. Der schmale Abstreifer erzielt durch weniger Textureinsatz klassisches Wimpernvolumen für jeden Tag, während der größere Abstreifer mit mehr Textur auf dem Bürstchen für den voluminösen, großen Auftritt sorgt. One for all – jetzt in ultrablack – für ein maßgeschneidertes Wimpernstyling. Um 4,49 €*.
Lovely Lips
NEU
CATRICE Ultimate Lip Glow – Lip Colour Intensifier
One shade fits all! Der neue CATRICE Ultimate Lip Glow – Lip Colour Intensifier passt zu jedem Look: Die transparente Lippenstifttextur enthält Öle, die die Lippenhaut glätten und zum Strahlen bringen. Es entsteht ein natürlich-frischer Look mit einem absolut individuellen Farbergebnis. Um 4,99 €*.
NEU
CATRICE Liquid Lip Tint
The next generation! Mit drei herrlichen Rottönen, von hell bis dunkel, überzeugt der Liquid Lip Tint mit Wow-Effekt. Je häufiger man die Farbe aufträgt, desto intensiver wird das Farbergebnis. Durch seine ultra-leichte Formulierung auf Wasserbasis ist der Liquid Lip Tint kaum zu spüren und wirkt kühlend-frisch auf den Lippen. Mit dem präzisen Flock-Applikator lässt sich die Textur sehr leicht auftragen und kann dank feuchtigkeitsspendendem Glycerin ideal unter dem Lippenstift oder Lipgloss getragen werden. Um 3,99 €*.
Fabulous Face
NEU
CATRICE Ultimate Moisture Fresh Skin Make Up
Strahlend schön und herrlich frisch – das neue öl-freie Ultimate Moisture Fresh Skin Make Up lässt keine Wünsche offen. Langanhaltend verleiht das Make-Up mit mittlerer Deckkraft einen natürlichen, leicht mattierten Teint und gleicht Hautunebenheiten aus. Das enthaltene Glycerin spendet der Haut besonders viel Feuchtigkeit und schützt sie so vor dem Austrocknen. Mit UV-Filter. Dermatologisch getestet. In insgesamt vier verschiedenen Nuancen. Für alle Hauttypen geeignet. Um 5,49 €*.
NEU
CATRICE Prime And Fine Highlighting Powder
Ein herrlich leichter Puder, der in Kombination mit jedem CATRICE Make-Up aufgelegt werden kann. Der ultra-seidige Prime And Fine Highlighting Powder setzt wunderschöne Highlights im Gesicht und auf dem Dekolleté für ein perlig schimmerndes Finish. Um 4,49 €*.
NEU
CATRICE Prime And Fine Illuminating Base
Der öl-freie Primer sorgt für einen frischen und ebenmäßigen Teint. Dank der enthaltenen, lichtreflektierenden Pearl-Schimmerpigmente kaschiert er Hautunebenheiten und reduziert das Erscheinungsbild von Poren und feinen Linien. Mit seiner feuchtigkeitsspendenden Formulierung hinterlässt der Primer ein seidig-weiches Gefühl auf der Haut: die perfekte Grundierung für jedes langanhaltende Make-Up. Um 4,99 €*.
NEU
CATRICE Defining Blush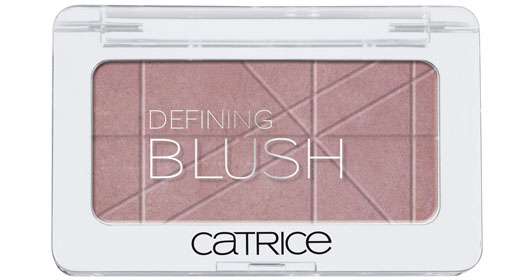 Rouge für akzentuierte Wangenknochen – der neue Defining Blush von CATRICE hat seinen großen Auftritt! Der ultra-feine Rouge-Puder mit Vitamin C und E lässt sich leicht verteilen und sorgt für einen strahlenden, seidig-zarten Teint. Mit der hochpigmentierten, weichen Textur lassen sich die Wangenknochen besonders hervorheben und die Gesichtskonturen modellieren. Erhältlich in sechs neuen Farben. Um 3,49 €*.
Die CATRICE Neuheiten Herbst / Winter 2012 sind ab August erhältlich.
*unverbindliche Preisempfehlung