4-STEP SMOKY EYES PALETTE

Smoky Eyes – Symbol für Sinnlichkeit und Verführung, Königsdisziplin des Augen-Make ups. In diesem Winter wird jede Frau zur Königin und zum professionellen Make up-Artist: dank der limitierten 4 Step Smoky Eyes Paletten 'Silver Black' und 'Golden Brown' mit integriertem Pinsel und Kajalstift von The Body Shop®. Vier leicht verständliche Grafi ken führen Step-by-Step in die hohe Kunst der Make up-Verführung ein und garantieren einen betörenden Augenaufschlag. Kann es ein eindrucksvolleres Party-Make up geben?…it's showtime!
In den Nuancen Silver Black und Golden Brown erhältlich.
18,00 Euro (7,5 g)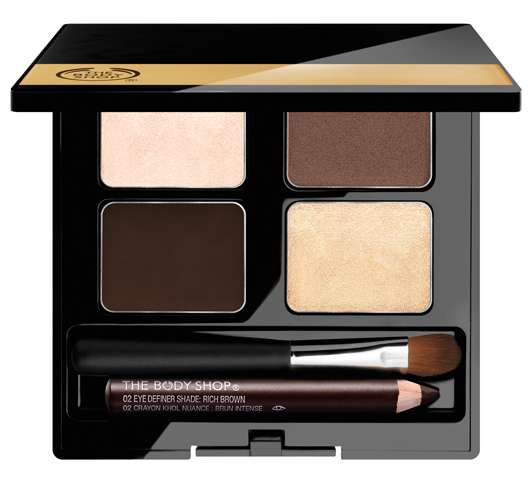 THE SPARKLER

Edel, elegant und wunderschön. Begehrenswertes Must-have mit unwiderstehlicher Anziehungskraft: The Sparkler von The Body Shop®. Eine raffinierte Kombination aus Perl- und Glitzerelementen im luxuriösen Boudoir-Flakon zaubert einen hauchzarten Schimmer auf Gesicht, Haar und Körper. Tolles Highlight: Den glitzernden Sternenstaub auf eine Puderquaste sprühen und entlang der Wangenknochen Akzente setzen.
In den Nuancen Boudoir Pink und Enchanting Gold erhältlich.
14,00 Euro (10 g)
MINI HI-SHINE LIP TREATMENT
Sparkling nights 2011… mit den "Glanzstücken" Mini Hi-Shine Lip Treatment für ultra-schimmernde, glänzende Lippen im Wet-Look! Sie schenken den Lippen intensive Pfl ege und Feuchtigkeit. In den Farben Pink, Coral, Beige und Purple im praktischen Mini-Format die perfekten Partybegleiter auf dem Weg in eine rauschende Nacht.
In den Farben Coral, Pink, Beige und Purple erhältlich.
5,00 Euro (6 ml)
Die limitierte Make up-Kollektion ist ab dem 7. November 2011 in allen The Body Shop® Geschäften erhältlich.