Ein Duft, so sinnlich und verführerisch wie samtweiche Haut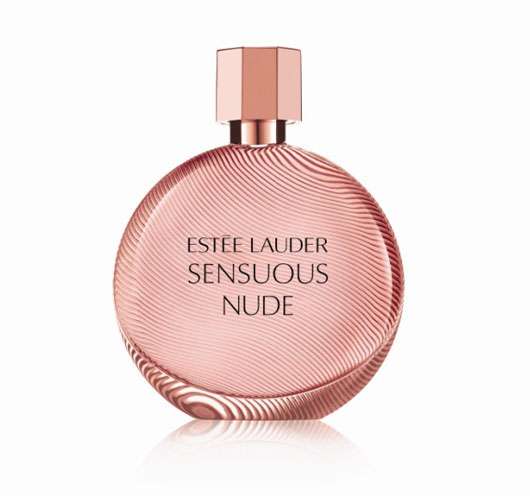 Mit
Sensuous
lancierte
Estée Lauder
erstmals einen Duft der, anders als klassische Damendüfte, durch einen leichten Holzakkord dominiert wird. Mit Sensuous Nude kommt jetzt eine besonders feminine Variante des Eau de Parfums auf dem Markt. Neben dem charakteristischen Holzakkord spielen hier zarte Blütennoten von Maiglöckchen, Heliothrop und Jasmin, sowie sinnliche Akzente von Vanille, Amber, Honig und schwarzem Pfeffer die Hauptrolle. Passend dazu schimmert der Sensuous Nude-Flakon in zartem Rosé.
DER DUFT
Zarte Blumennoten, würziger Pfeffer und sinnliche Extrakte wie Vanille und Honig vermischen sich bei Sensuous Nude zu einem innovativen, femininen Mix. Dominiert wird das Eau de Parfum wieder von einem warmen Holzakkord. "Sensuous Nude steht für eine moderne Interpretation von Sinnlichkeit und spiegelt alle Facetten einer selbstbewußten Frau wieder, die mit sich im Einklang ist", erklärt Karyn Khoury, Senior Vice President of Corporate Fragrance Development Worldwide der Estée Lauder Companies.
Kopfnote
Die Topnote wird dominiert durch frisch-fruchtige Noten von Bergamotte und Mandarine sowie würzig-aromatische Akzente von Schwarzem und Rosa Pfeffer (Baie Rose).
Herznote
In der Herznote liegt der Fokus diesmal auf zarten Blütennoten von Jasmin, Maiglöckchen und einem Hauch von Kokosaroma. Mehr Tiefe bekommt das Herz von Sensuous Nude durch den sinnlichen Duft von Lindenblütenhonig und Moschus.
Basisnote
Auch in der Basisnote sorgt Moschus für einen wichtigen Akzent. In Verbindung mit Extrakten von Sandelholz und Vanille und dem Aroma von Amber, das aus gelbem Bernstein (versteinertem Pflanzenharz) gewonnen wird, garantiert es einen besonders sinnlichen Touch. Abgerundet wird das Eau de Parfum durch einen Hauch von Heliotrop und den Sensuous typischen Duft von geschmolzenem Holz (Melted Wood NaturePrint™). Bei der Entwicklung dieses Akkords wurde auf die innovative NaturePrintTM-Technologie zurückgegriffen. Dabei werden Duftmoleküle mit einem Filter aufgefangen und anschließend durch Gaschromato-graphie und Massenspektographie analysiert. Dadurch können Duftmoleküle "nachgebaut" und so ein naturidentisches Dufterlebnis kreiert werden. Die Inspiration für den Holzakkord kam überraschenderweise aus der Möbelindustrie. Dort werden Hölzer bei 110 bis 180 Grad durch Druck miteinander verschmolzen und zu exklusiven Designerstücken verarbeitet. Der Duft des Holzakkords entstand beim Verschmelzen von Pinien- und Guajakholz. Ihn hat man eingefangen und mit der bereits erwähnten NaturePrintTM-Technologie nachgebaut. Das Ergebnis ist ein äußerst verführerischer Akkord, der zum ersten Mal bei Sensuous verwendet wurde.
DIE KAMPAGNE
Das Visual der Kampagne wurde von der Agentur Doug Lloyd and Co. in Zusammenarbeit mit Aerin Lauder kreiert und von Star-Fotograf Craig McDean geshootet. Sie zeigt das brasilianische Model Isabeli Fontana in einem abendlichen Setting am Strand. "Die Kampagne erinnert mit ihrer sinnlichen Anmutung an die erste Estée Lauder-Werbung für den Duft Youth Dew, die eine unbekleidete junge Frau zeigt, die gerade in ihre Badewanne steigt", erklärt Aerin Lauder, Style and Image Director der Marke Estée Lauder.
DIE VERPACKUNG
Der Sensuous typische Flakon schimmert bei Sensuous Nude in metallisch schimmernden Rosé und Creme. Unverändert sind die rot-goldene Verschlusskappe mit eingeprägtem Estée Lauder-Cartouche und die gewellte Rillenoptik auf der Rückseite des roséfarbenen Flakons.
SENSUOUS NUDE
♦ Eau de Parfum Spray 30ml € 44,00*
♦ Eau de Parfum Spray 50ml € 57,00*
Ab September 2011 im Handel und unter www.esteelauder.de erhältlich.
*empfohlener Verkaufspreis
wenn der Duft nur annähernd so riecht wie er beschrieben wird.. könnte das ein absoluter liebling werden :) ich bin gespannt und hoffe irgendwo probeschnüffeln zu können..
das design spricht mich nicht wirklich an.. aber wer weiss .. ich lass mich überraschen und bin sehr sehr sehr gespannt drauf allein der erste satz hat mich angefixt