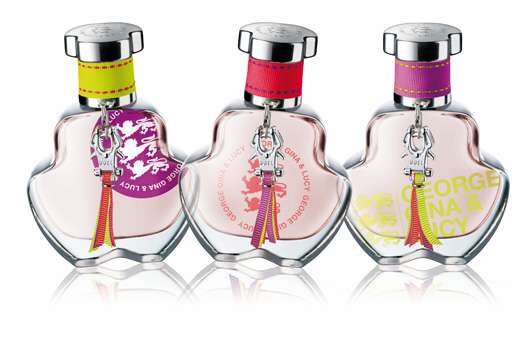 GEORGE GINA & LUCY – Authentisch, vielfältig und niemals langweilig
Die Erfolgsstory von GEORGE GINA & LUCY begann einfach wie unkonventionell: 2004 starteten drei Freunde mit 1.500 selbst designten Taschen und bewiesen, dass man nur an sich glauben und seinen eigenen Kopf durchsetzen muss, um es bis ganz nach oben zu schaffen. Der Erfolg gibt GEORGE GINA & LUCY Recht: Allein im letzten Jahr hat das Unternehmen weltweit unglaubliche 700.000 Taschen verkauft. Kein Wunder, denn GEORGE GINA & LUCY ist überraschend anders: Da ist zunächst der ungewöhnliche Style, der kombiniert mit Liebe zum Detail einen ganz individuellen Look kreiert hat. Leicht verrückt und extrem kreativ sind auch die witzigen und treffsicheren Taschennamen wie "Motion Of The Ocean", "Tiny Toaster" oder "Mos Cowgirl". Durch diesen unkonventionellen und absolut andersartigen Look ist GEORGE GINA & LUCY nicht nur bei Stilikonen, Trendsettern und Modeexperten heiß begehrt. Ein Grund mehr, sich zu neuen Ufern aufzumachen!
GG&L – Never be the same!
Das überraschend andere und verspielte Konzept und diese ganz spezielle kreative Liebe zum Detail transportiert GEORGE GINA & LUCY selbstverständlich auch bei dem ersten Duft. Langeweile ist out, Vielseitigkeit heißt die Devise. Ein Duft für Frauen, der sich garantiert in keine Schublade stecken lässt: Sexy und sinnlich, aber dabei immer schön locker bleiben. Süß und charmant, aber auch mal die Krallen ausfahren können. Seinen eigenen Kopf haben, ganz genau wissen, was man will und vor allem, wie man es bekommt.
Der Look – Immer für eine Überraschung gut
Never look(s) the same – dieses Motto hat GEORGE GINA & LUCY auch für das Design der Flakons und der Faltschachtel übernommen. Daher ist der Look des neuen Duftes gleich auf mehrere Arten überraschend anders, herrlich bunt, ein bisschen verrückt und trendy zugleich.
Der Flakon – Edel und verspielt im Handtaschendesign
Das auffällige Design erinnert an die Silhouette einer Handtasche – schließlich entstand es aus der Idee, verschiedene Konturen mehrerer GG&L-Taschen übereinander zu legen. Herausgekommen ist dabei der luxuriös-verspielte Flakon aus schwerem Glas, der nicht nur das extravagante Design der GEORGE GINA & LUCY-Taschen widerspiegelt, sondern zudem deren Erkennungszeichen zitiert: den Karabiner. Dieser ist abnehmbar und lässt sich von Fashion Queens vielfältig kombinieren. So kann man immer und überall GEORGE GINA & LUCY sein. So vielfältig wie die angesagten Taschenkollektionen sind auch die Flakons: GEORGE GINA & LUCY – Never look(s) the same.
Ganz typisch für das kreative Potenzial und die einzigartige Detailverliebtheit ist daher die Idee, den Flakon gleich in neun verschiedenen Designs anzubieten. Die Looks der Flakons sind herrlich verspielt und vereinen gleich mehrere Materialien in wunderbar poppigen Farben. Ein bunter Mix aus weichen und femininen Stoffen an der Verschlusskappe und am Karabiner steht im Kontrast zu dem modernen Design des Metalldeckels – und das gleich in neun verschiedenen Versionen. Die unterschiedlichen Varianten des GG&L-Logos kombiniert mit dem trendbewussten Farbspiel der Stoffe garantieren jedem Flakon ein immer wieder anderes Design. Getreu dem Motto "one fragrance. nine looks". Trendy, stylish, extrem funky, eben GEORGE GINA & LUCY.
Die Faltschachtel – Which look is yours?
Auch das Design der Faltschachtel spiegelt die ganz besondere Detailverliebtheit des GEORGE GINA & LUCY-Looks wider. Das unkomplizierte Zusammenspiel von Trendfarben und das vielfältige und verspielte Layout unterstreichen mit frechen Sprüchen, dass auch der Flakon, der sich in der Schachtel verbirgt, überraschend anders ist. Haben Sie schon mal ein Parfum mit integrierter Peepshow gesehen? Die garantiert die "Surprise"-Faltschachtel mit integriertem Guckloch, das nur erahnen lässt, welches der neun Flakon-Designs sich im jeweiligen Karton verbirgt. GEORGE GINA & LUCY ist nichts für Langweilerinnen, sondern für Frauen, die auf der Suche nach einem kribbelnden Shoppingerlebnis sind.
Eau de licious – Ein Duft mit Suchtpotenzial
Überraschend anders, vielfältig und sexy ist auch der Duft von GEORGE GINA & LUCY. Fruchtig, bunt und flirty ist die Kopfnote, die ganz genau weiß, was sie will. Der innovative Cocktail aus Pink Grapefruit, Grüner Mandarine, Nashi Birne und Schwarzem Johannisbeer-Sorbet lässt sich garantiert in keine Schublade stecken. Die leichte Sinnlichkeit und ein gehöriger Schuss Erotik treffen sich in der blumigen Herznote. Gardenie und Freesie harmonisieren mit der Frische von Maiglöckchen und Magnolia, die den Duft herrlich unverkrampft und sinnlich, sexy und locker zugleich erscheinen lassen. Die verführerischen und femininen Noten Benzoin, Moschus, Australisches Sandelholz und Amber vereinen im ausgefallenen und unangepassten Fond
Sie wollen mehr über GEORGE GINA & LUCY erfahren? Besuchen Sie uns online unter www.george-gina-lucy.com.
Das neue GEORGE GINA & LUCY Eau de Parfum 50ml ist im autorisierten Fachhandel ab September in neun Varianten zum Preis von 49,00 Euro (UVP) erhältlich.